Seasonal Tastes
A fresh imaginative, interactive all day dining concept. This signature food & beverage venue showcases the freshest produce and ingredients coupled with lively and approachable culinary and service staff. Located at the Lobby level, Seasonal Tastes offers the guest an innovative yet comfortable dining experience. The energy level of this place is enhanced by the oversized glass windows overlooking the hotel drive way as well as the magnificent water body. A vibrant atmosphere created with bright sunlight and warm smiles of our friendly staff would be the highlight of this venue.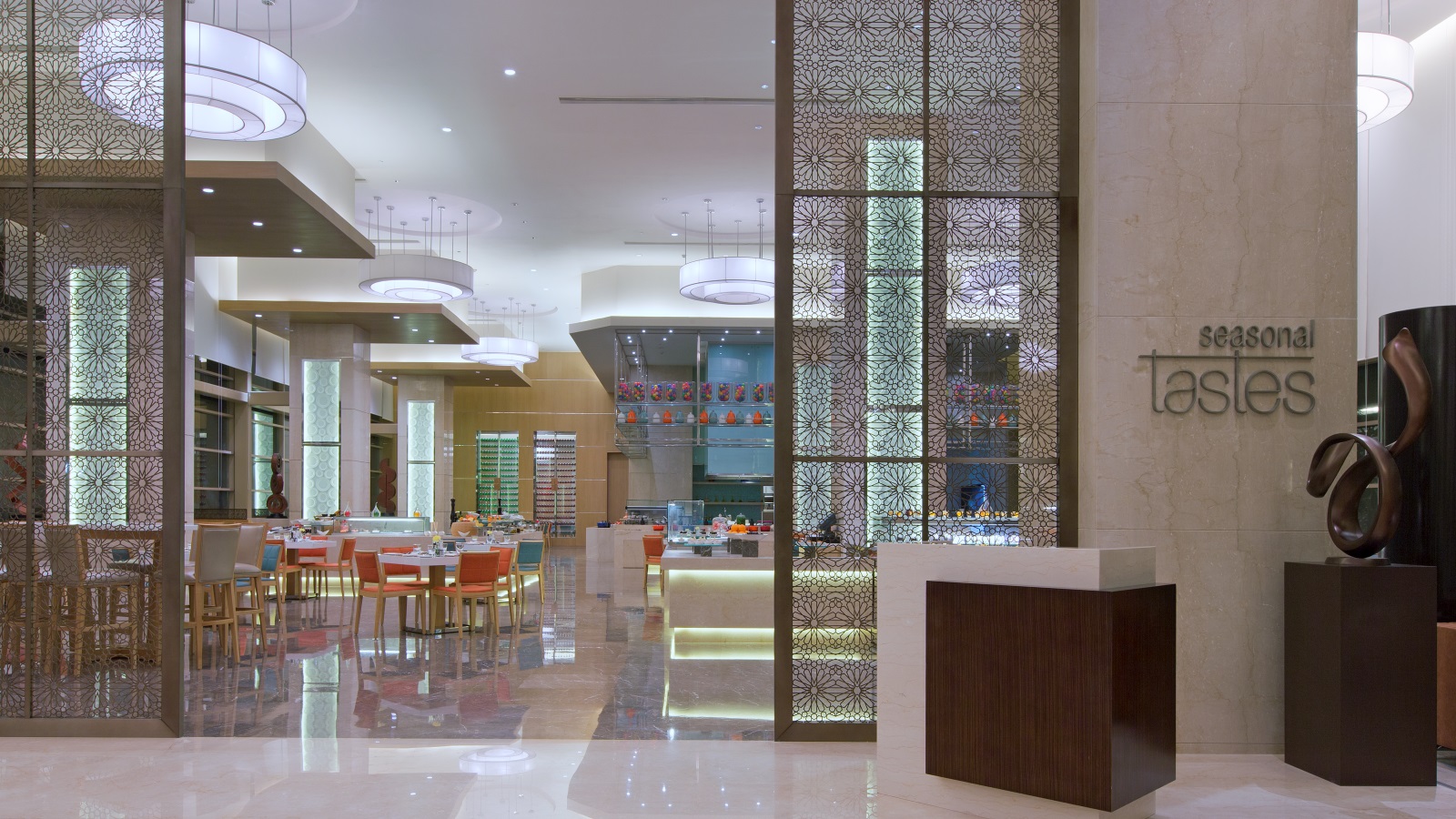 The design feature includes large metal lattice work at the entrance creating a subtle separation from the lobby. Suspended glass shelves over the live kitchens with artefacts and designer pottery, pristine white tables with comfortable chairs and seating makes this original space a true delight.
You may try our special food offerings such as: the fresh juice bar, cereals, frozen yoghurt, mouth-filling bakeries/ confectioneries, and other Indian and western breakfast gourmet delights in the morning or savour some Asian cuisine, healthy salad bar, home-made Italian pastas, delicacies of Southern India, Asian Delights, tempting dessert or our very special ice cream mixology prepared in front of you as you catch-up with the chefs in the open kitchens.
An exclusive private dining room would allow you to conduct 'Power Meetings' or business lunches with ease, do not miss on the healthy dining option with our signature Westin SuperFoods program that would be a part of the buffet and a-la-carte menu.
Location- Lobby level
Cuisine- Local & International
Capacity- 168
Buffet Hours-
Breakfast- 6:30am - 10:30am
Lunch- 12:30pm - 3:00pm
Dinner- 7:00pm - 11:30pm
A-la-carte Hours-
24 hours
Atmosphere- casual